5 benefits of a Digital Operations Platform
October 19, 2020
In today's world of digital commerce, customers are demanding great buying experiences. To give their customers what they want, businesses have started to review their internal operations. Often, businesses find that their core applications are outdated and unable to adjust to modern demands. Existing solutions turn out to be less flexible and future-proof than expected. Therefore many merchants are looking for new solutions.
The estimated time to read this article is
5 Minutes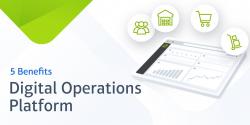 Finding the right System
Traditional systems just don't cut it. Systems traditionally used to manage operations turn out to be largely inflexible, expensive to upgrade, and poorly suited to modern digital businesses. Sytems such as OMS, inventory management solutions, and other backend software seem great at first, but then turn out to lack crucial features.
Luckily, there is a solution. We now see the beginning of a new era of operations technology, the Digital Operations Platform. Modern Digital Operations Platforms are at the heart of a fast-changing business environment.
What is a Digital Operations Platform?
A Digital Operations Platform (DOP) is the foundation for your digital commerce operations. It unifies data streams coming from operations such as sales, order management, fulfillment, and inventory management. A DOP consolidates these data and enables businesses to offer great customer experiences. Like that, only one platform needs to be used to manage all crucial backoffice operations.
But what are the actual benefits of using a DOP? Let's take a look at these five benefits:
A chance to update your legacy system
In the past, when businesses wanted to update their operational systems, there wasn't really a good choice. It was either getting new software with the same flaws as the software already in place, or going for much more expensive, yet still inflexible systems.
As an example, the digital core of commerce enterprises traditionally refers to Enterprise Resource Planning (ERP) systems. Even though they were originally designed to consolidate data from multiple sources, they have reached the limit of their capabilities. ERP systems often fail to deliver the required speed and flexibility needed in today's commerce landscape.
That is why, according to American market research company Forrester: "…there is a transition towards a new, more flexible alternative of Digital Operations Platforms".
Contrary to ERPs and other legacy systems, a DOP is the first type of platform that actually offers what it promises. Having a DOP in place finally gives businesses the chance to deal with their legacy systems.
2. Offer great customer experiences
Customer expectations are more complicated than ever before. Both B2C and B2B customers expect a seamless buying experience, no matter the sales channels they use. Some examples:
Inventory visibility
Buy online pick up in-store
Online order tracking
Personal customer account
Loyalty programs across channels
Great customer service
Quick delivery
Traditionally these would have to be offered with a multitude of solutions. Inventory visibility would come from the WMS, while order information would be stored in the CRM, and in-store pick-up would have to be managed through the POS. This leads to data silos in each separate solution.
Having these data silos means that processes are very slow and hard to maintain. Making a simple adjustment to your customer experience can become very hard. Every change in one system means also changing it in other systems. With a DOP this is no longer needed as all operations are centralized.
3. Offer great employee experiences
Employees often complain about how their work is slow and more complicated than necessary. They work in various systems, which all have their own methods and procedures.
Also, each system stores its own set of data, leading to data silos. Working with data silos is highly inefficient and leads to errors as data often have to be manually transferred between systems.
A DOP enables you to consolidate these data streams and manage them from a single platform. For example, your inventory data are stored in the DOP allowing for inventory visibility, all order workflows are facilitated by the DOP making it easy for customer service to look up order statuses, and store staff has access to a list of in-store pick-ups all within that same DOP interface.
4. Get insight into all data streams in one unified platform
Breaking up data silos has a second benefit. It allows you to get a 360 view of all operations within your business. Where in the past it was difficult to combine data from different departments, with a DOP this is an easy task. As a DOP stores all operational data, it can be used to create many different types of reports. For example:
Number of shipments
Revenue per sales rep
Customer churn rate
Upsell & cross-sell rates
Profit margin
Top selling products
Best selling sales channels
And much more.
Usually, creating these reports would combining data in excel sheets. With a DOP you can create and use these reports to improve operations, all within one platform.
5. Increase efficiency, save money
The benefits mentioned above all lead to one conclusion. With a DOP it becomes much easier to save money op operational costs, makes operations more efficient, and ultimately drives revenue.
Setting up a Digital Operations Platform might be hard at first. It forces you to review all internal processes and unify them into one platform. However, once the platform is in use you will never want to back to your legacy situation.
About Marello
Marello is a Digital Operations Platform that powers a digital experience for employees and customers. It offers a flexible solution that allows you to sell on any channel while unifying your back-office processes. Enable a true omnichannel experience with lower operational risk, lower operating costs, and increased revenues in a powerful unified solution.