Omnichannel Strategies: Transforming the Experience
December 3, 2020
The estimated time to read this article is
5 Minutes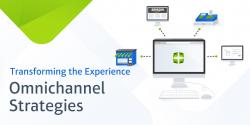 Nowadays, selling products is no longer about having the best product offering. Instead, it about the best omnichannel strategies for the best shopping experience.
But why?
Because selling products had become more complex. Because modern retailers hardly ever only sell in one channel (instead they sell in webshops, marketplaces, apps, and brick-and-mortar stores). And because customer expectations have drastically changed.
The future of commerce lies in having the right omnichannel strategies in place: connecting your sales channels, streamlining your back-office operations, and offering a smooth buying experience.
Omnichannel Selling: what Customers want
Often you will read articles about customer expectations in omnichannel environments. They will tell you about the importance of "channels", "journeys", and "experiences" (we even started this article with that). We are not telling you that these terms are irrelevant. However, it is important to understand that customers do not care about any of these terms at all. Customers "just want to go shopping".
And actually, that's where the biggest challenge lies: building great omnichannel strategies, in which customers can go shopping, without any restrictions. To facilitate this, the focus needs to be on back-office operations. But why, and how?
Let's start by taking a look at some of the challenges many businesses experience in this respect:
Omnichannel Brand Loyalty – Selling in multiple channels means customers will be able to interact with your brand in various places. When your brand is not consistently represented in the channels, it can take a hit on your brand reputation. When customers find it hard to define your brand, their loyalty will subside.
Understanding the Customer – Often omnichannel retailers struggle with knowing what their customers want, especially as their customers are scattered across channels. Tracking them becomes impossible when multiple sales channels are used.
Connecting online/offline stores – This is a crucial step for any business with brick-and-mortar stores and online channels. When customers shop with you, they expect cross-channel options such as buy online pick up in-store (click & collect), ship to store, return in-store, and much much more. This is only possible when the right omnichannel strategies are in place.
Most of these problems arise because of inflexible or unsustainable platform architectures. For start-up companies, handling business operations is easy. Spreadsheets and manual transactions are easy to handle. However, as businesses grow they need more tools to handle orders, inventory, and customers. They end up implementing various (customized) systems. This creates an integration maze, which is hard to handle, expensive to maintain, and prone to manual error.
So, how to get it right?
Omnichannel Strategies: How to get it Right
Retailers need to shift their attention away from thinking about separate solutions for their back-office problems. Instead of using separate ERP, CRM, OMS, WMS, Inventory Management Systems, and custom-built applications, they need to take a step back and start thinking about omnichannel as a whole.
Only with the right architecture will you be able to offer your customers what they are looking for.
Let's take a look at some important operations to consider:
Integrated Order Management
When you sell on multiple channels, customers can place orders in any of your shops. Keeping track of these orders, and making sure they are managed in the right workflows, can be a challenge. For that reason, it is crucial to have a robust cross-channel system with OMS capabilities in place. A true omnichannel solution helps you with just that. It helps you to integrate orders from eCommerce, marketplaces, apps, and brick-and-mortar stores. The platform will handle every step in the order process, from the order being placed to the order being delivered to the customer.
Connecting Online & Offline Stores
Integrating online and offline stores could be very beneficial for your omnichannel strategy. Once online and offline stores are connected, you can offer various services that customers highly value including:
Buy-online pick up in-store (click and collect)
View store inventory online
Return in Store
Refund in Store
Shorten delivery times by shipping from store
Accurate Delivery
The buyer's journey does not end once an order is placed. Delivery is an important part too. In an omnichannel environment, make sure to smoothen out the fulfillment process with the accurate delivery of orders. Automated operations can help you to simplify fulfillment. Accurately pack, label, and deliver products based on region, product availability in warehouses, and shipping costs.
Also, don't forget to offer multiple delivery options such as pick up in a nearby store or pick up point.
Easy Returns Management
The way in which orders can be returned is a crucial part of the customer's experience with your brand. This means that you need to facilitate an easy way to return items, whether it is by a pre-printed return label, by offering a great returns portal or giving the option to return an item in-store.
Brand Consistency
Ensure your customers have the same experience on each of your marketplaces, webshops, or offline stores. It will help in building trust en brand loyalty. Companies with a consistent brand experience will see customers come back for a seamless shopping experience.
Optimal Omnichannel Strategies with a Digital Operations Platform
A Digital Operations Platform brings together back-office operations and unifies them into a single view. It gives your business what it needs most: a space in which operations are streamlined. It is the perfect solution to offering your customers the omnichannel experience they are looking for.
Transform the Omnichannel Experience Today
Merchants need to invest in new omnichannel capabilities to move with the shifting trends in the future of retail. At Marello, we help omnichannel businesses to create the optimal operations platform for your business. Request a demo and learn more.