Digital Operations Platforms – Part One – Next-Level Omnichannel
January 12, 2021
In this three-part blog, we will introduce you to the Digital Operations Platform. We'll tell you about what changes are going on in the omnichannel landscape, what challenges arise because of it, and how a DOP can be a future-proof solution for your business. In part one, we will dive into how omnichannel selling has changed over the pas 15 years, and what this means in terms of customer expectations.
The estimated time to read this article is
4 Minutes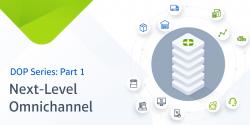 The shopping experience has drastically changed over the past fifteen years or so. Where shopping once began and ended in a brick-and-mortar store, shopping now is a journey across many channels – online and offline. The number of touchpoints that customers use to buy a product has increased from two touchpoints fifteen years ago to six on average nowadays.
Omnichannel is Essential
Over the past years, many new sales channels have gained popularity (marketplaces, social shopping, apps). Consequently, selling products in multiple channels has become a standard for many businesses. Many have implemented omnichannel strategies.
"Omnichannel commerce is an approach to sales that focusses on providing a seamless customer experience though multiple channels. Whether the customer is shopping online on a webshop, marketplace, social media or app, or offline in a brick-and-mortar store. Omnichannel operations focus on the entire customer experience—not the customer's individual experiences on different channels."
Nowadays, merchants that have an omnichannel strategy in place, experience growth through gaining a new customer base, customer retention, and higher revenues.
Evolving Omnichannel – Keeping up
Even though omnichannel is an established strategy in the (e)commerce landscape, it does not mean that the strategy is set in stone. Instead, merchants are trying to find out the best ways to execute their omnichannel strategies every day.
And this means keeping track of changes in many different operations related to omnichannel selling, including:
To make things even more challenging, customer expectations keep changing as new strategies are being implemented. Merchants, therefore, need to continuously rethink their strategies and evaluate the software solutions they use.
Customers Engage with Organizations, not Channels
Part of the evolving omnichannel world includes customer engagement with organizations – not individual channels. Shoppers are as they say "channel blind". They do not shop in a channel, they shop with a brand. For a customer, it no longer matters whether they shop on a marketplace, in a webshop, or brick and mortar store, they expect the same experience in each channel. What they want is a unified experience, with no gaps or misalignment between the products, prices, and services in any channel, regardless of what route they take through them. For customers, it is all about convenience.
Some examples of omnichannel customer expectations:
A personal customer account with access to order status, receipts, customer service, and more.
Accurate information about delivery times
Inventory visibility in warehouses and in-store
Multiple delivery options, such as BOPIS
Cross-channel loyalty points
To support these expectations, complex processes need to be in place in which various parts of your operations work together. These include order management (OMS), inventory management, warehouse management (WMS), fulfillment (3PL), customer management (CRM), and any other process used to offer omnichannel services.
The Importance of (e)Commerce as one Organization
The customer experience is a top priority for businesses. It is the prime differentiator between those who make it and those who don't. Customers no longer base their loyalty on the price or product. Instead, they stay loyal to companies based on their experiences. Even though customer experience has always been a top priority, the techniques to achieve it have changed. It has even changed so much that merchants need to rethink their strategies, as well as the software that is being used to facilitate omnichannel.
To be successful, rethinking the strategy means seeing commerce as one unified organization. This means that all teams that deal with part of commercial operations, need to be able to see what is going on in the organization as a whole. Only then operations can be used in such a way that customer expectations are fulfilled.
Want to know what this means exactly? Stay tuned to learn more about Unified Commerce in our next blog article.