Digital Operations in Commerce: Best Practices – Part 2 Automated Order Management
August 9, 2022
Digital operations are at the core of any (e)commerce business. As commerce is evolving, and customer demands are changing, so is the need to manage digital operations more efficiently. Yet, outdated operating models and outdated systems can hinder transformation initiatives, impeding the ability to keep pace with customer demands. Fortunately, new initiatives help to close the gap between outdated systems and new customer demands.  In this blog series, we explore best practices in managing digital operations in commerce with a DOP. In part two, we take a look at Automated Order Management.
The estimated time to read this article is
6 Minutes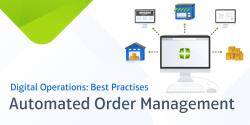 What is Automated Order Management?
Automated Order Management is facilitated by systems that process orders across channels. An Automated Order Management system will integrate with online stores, marketplaces, and POS in-store channels. It automatically processes and verifies orders at the moment they're placed. The system then starts the order process, in which statuses are updated in real-time, customers are notified about their order, and the fulfillment processes can begin. Automated order management reduced human error, improves operational efficiency, and speeds up the order management process from start to finish.
Why do I need Automated Order Management?
(e)Commerce is becoming increasingly complex. Products are being sold in multiple channels, inventory is spread out over multiple warehouse locations, orders are fulfilled by multiple 3PLs and customers have high expectations about their orders.
Until not too long ago, orders were often managed by hand. This meant manually placing the order, contacting the warehouse about fulfillment, contact with the customer, creating invoices, and so on.
Later on, systems were implemented that would (partly) automate order processes. However, these systems (such as ERPs), often move too slowly, lack intelligence, and are too complex for the realities and customer expectations of the digital world.
Nowadays, there are new systems that can manage orders seamlessly. New technologies allow for Automated Order Management, which has many benefits for (e)Commerce businesses.
How can a Digital Operations Platform help with Automated Order Management?
One of the best platforms for Automated Order Management is the Digital Operations Platform. A Digital Operations Platform. A DOP offers a centralized unified commerce platform to manage back-office processes such as sales channel management, order management, inventory management, and customer management.
As a DOP supports all these operations, it can automate every step in the order management process. It results in an all-round platform that brings many benefits.
1. Automated Omnichannel Order Management
An automated order management system receives and verifies orders from multiple sources such as webshops, marketplaces, and social channels. These data are managed in a central system, which prevents the need to manually enter order information. As all these data are processed in a unified platform, they can be used for demand forecasting and other valuable insights which can help in making business decisions.
2. Customer Data Collection
Each order includes customer information, which can be saved in an automated order management system. Customer details may include the number of orders, order history, contact information, return reasons, and more. These data can be used to improve the customer experience and provide better customer service.
3. Better accuracy and fewer errors
Manually managing order and customer data often leads to errors and inaccuracies. This may lead to all sorts of problems, such as issues with fulfillment, inventory levels, and customer data. In an automated system, errors and inaccuracies are eradicated.
4. Track inventory
The best thing about an automated order management system is that it can be integrated with other operational software such as WMS, PIM, or 3PL. As these systems are connected, the order process can be fully automated from start to finish, and update other systems accordingly.
5. Better order fulfillment & faster shipping
Automating order management also presents benefits for order fulfillment and shipping. As all data about the order are present in the system, shipping labels can be printed, warehouse staff can be notified, and orders will be out the door faster.
How is a DOP different from other Order Management tools?
There are multiple platforms that offer automated order management services. However, a Digital Operations Platform offers the most complete and flexible solution for any business type. That's mainly because of two reasons.
Unified Platform
Digital Operations Platforms are the hub of your operations management. They unify data coming from sales channels, warehouses, product information management, and more. So instead of a layer on top of your existing solutions, a DOP becomes the center of all operations. This means that any step in the order management process can be handled on the same platform, as well as send out the data to your connected platforms.
Flexible Workflows
No two companies are the same, and order management workflows differ from business to business. This means the steps that are taken in an order management process may greatly differ. For example, B2B order workflows require many more steps than B2C workflows, and a marketplace order workflow differs from a social commerce order workflow.
Luckily, Marello can easily fit into any business model. Unlike other order management solutions, Marello allows you to set up complex customizable workflows for omnichannel order management, inventory management, fulfillment, customers, and much more.
Scalability
Companies grow, change strategies, start selling products in new channels, and change their commerce software from time to time. Most order management solutions have difficulties keeping up with these changes. They present with limitations when workflows need to change when new channels need to be added, or new software needs to be integrated. Digital Operations Platforms, however, are built to support any kind of change due to the flexible architecture and smart workflows.
A Digital Operations Platform is crucial for Automated Order Management
Each business has unique requirements for its order management. Automated order management in a DOP helps to save time and stay ahead of ever-changing order management processes.
Here's how an automated order management system with a DOP saves you time and money:
Automation helps in increasingly complex e(commerce) environments. Instead of managing order workflows by hand, a DOP automizes any step in the workflow. Whether it's updating order statuses, sending emails to customers, creating shipping labels, or more, a DOP helps out.
An automated order management system helps to unify all operations. It brings together order management, inventory management, fulfillment, and customer management. It means you get the best of automated order management, while also allowing your business to excel in other operational aspects.
Limitless flexibility and scalability help your business grow. Add sales channels, add third-party software, change workflows, and adapt the DOP to what your business needs.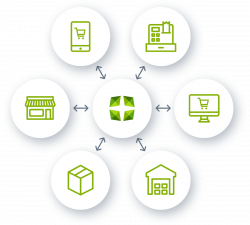 Part of the Order Management process is Fulfillment which comes with its own challenges. We'll take a look at order fulfillment in the next blog article.