What is a Digital Operations Platform and why Does Your Business Need One?
April 21, 2020
In day-to-day life, we use the most advanced and intelligent apps to interact with the world. However, when we are in the office, we often work with software that would not look out of place ten years ago. It's time to change that, with a Digital Operations Platform.
The estimated time to read this article is
5 Minutes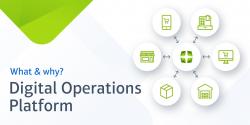 Traditional IT solutions used to manage retail, wholesale and manufacturing operations across sales channels, warehouses and customer service, are inflexible and unable to cope with the changing commerce landscape. New, flexible core enterprise platforms are needed to keep up and satisfy customer demand.
"The adaptive enterprise requires a flexible, modern core that enables fast changes and closed-loop feedback throughout the business to power better customer and employee experiences." – Forrester
And that's where Digital Operation Platforms (DOP's) are of great importance. A Digital Operations Platform brings together automation and workflows to give your teams what they need most. A space in which they can work together, in which processes are centralized and unified, and that allows for great customer experiences.
In this article, we tell you what a DOP is,  why your business needs one and, what benefits there are to having a Digital Operations Platform in place.
Replacing Legacy Systems with a Digital Operations Platform
Over the past decade, many businesses have put into place solutions to manage business operations in the best way possible. Solutions such as Enterprise Resource Planning, Order Management, Customer Relationship Management, Warehouse Management, and much more.
As businesses and customer expectations grew, many of these solutions have been integrated. Leaving employees to work with various systems at once. As these systems often lack the ability to fully communicate with each other, much manual work is needed. Also, making sure all these different pieces of software are kept up to date, takes up a lot of valuable time and money.
Our business leaders are being sold enterprise software, that claim to be the optimal solution in their own field. Especially ERP systems are notorious for selling great ideas, but not living up to the expectations. In truth, many businesses have been let down by the software that they are using.
But there's hope! Global analytics firm Forrester's latest report speaks of a transition, away from legacy (ERP) systems, to a more modern, flexible and sustainable Digital Operations Platform (DOP).

'While ERP systems of the past have been largely inflexible, expensive to upgrade, and poorly suited to modern digital businesses, we now see the beginning of a new era of operations technology, the Digital Operations Platform'
What is a Digital Operations Platform?
A Digital Operations Platform unifies back-office operations into a single view. Allowing closed-loop feedback throughout the business to power better customer and employee experiences. For example, your online sales manager will be able to modify product descriptions, as return reasons for products come back – your customer service team will be able to see the order status for each item – the management department will have real-time insights into sales in all channels – all enabling key elements for tracking and optimizing business health and growth.
What are the Benefits of a Digital Operations Platform?
A Digital Operations Platform helps merchants to deliver the ultimate omnichannel experience by replacing legacy applications with a single commerce solution. It offers a centralized unified commerce platform to manage back-office processes such as sales channel management, order management, inventory management, customer management and much more.
Improving Productivity
Having a centralized platform in place means data silos between different business units can be reduced. This creates many opportunities for automating processes. Automating time-consuming and repetitive workflows will benefit your employees, who will have more time to focus on other tasks.
An Optimal Customer Experience
A good DOP will be key to optimizing your customer experience. As DOP's bring together data streams they allow for optimizing processes such as:
Customer service
Order tracking
Click-and-Collect – BOPIS
Return in Store
All these will help you form better relationships with your customers and give them all the services they expect from a modern-day business.
Data-Driven Decisions
Knowledge is power, and a DOP will help you to gain a lot of it! Digital Operations Platforms will gather data from across your company, enabling you to make strategic and data-driven decisions in real-time. Use sales info to decide about product pricing, see how sales channels are performing and check inventory processes.
These types of information remove the guesswork and will allow you to test new business strategies.
Integrating Your Business
Although a DOP will help you to centralize business processes, it will never replace all systems within your company. However, it does structure organizational cohesion, by offering a centralized interface that also shows information from your integrated systems. Think of your eCommerce platforms, POS, payment providers and shipping partners.
Once you have a solution in place that works with all retail, wholesale and/or manufacturing solutions that your business truly needs, you will have a unified view of your business that runs smoothly.
Does your Business need a Digital Operations Platform?
There are businesses in all shapes and sizes, and each business might have a different strategy in place. Nonetheless, there are many businesses that could benefit from working with a DOP. Whether it's about bringing together many back-office processes or core processes only, a Digital Operations Platform will bring new opportunities and improve your business.
Marello is a digital operations platform for omnichannel commerce. It offers a flexible solution that allows you to sell on any channel while automating your back-office processes. If you'd like to know more, don't hesitate to reach out. We'd be happy to take a look at how the DOP that Marello offers might benefit your business.