Happy 2023: One for all, all for one!
January 2, 2023
As we turn our focus to the new year, we are eager to unveil the updates and events we have planned for Marello DOP. These enhancements will further enrich and round out our platform, and bring us even closer to our community.
The estimated time to read this article is
4 Minutes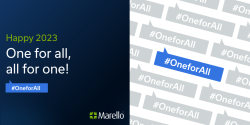 In every update and event we plan, our primary focus is on improving operational management for businesses. We aim to create a platform that is both comprehensive and tailored to the specific needs of each individual business, with the goal of streamlining and improving operational management for all.
This year, our focus will be on "One for All, All for One", a phrase that accurately reflects our Digital Operations Platform and embodies Marello's identity and philosophy. You will see this phrase in our communications over the course of the year. This theme speaks to our commitment to creating a product that serves the needs of all businesses while also being customizable to fit the unique requirements of each individual use case.
One for All, All for One
So what do we mean by "One for All, All for One?"
The famous playwright, poet, and actor William Shakespeare coined the phrase. However, French writer Alexandre Dumas made the phrase world-famous by using it for The Three Musketeers. It became a story that is well-known around the world.
The quote "One for All, All for One" is about group members who support each of the individual members, and the individual members support the group. The three musketeers had a vision: One for all, all for one, united we stand, divided we fall. But what does this story have to do with Marello's DOP?
One for All: Digital Operations Platform
Marello is a Digital Operations Platform (DOP) for commerce. A Digital Operations Platform can be seen as the core of all commerce operations. It is a platform that brings together order management, inventory management, shipping and fulfillment, customer management, and much more.
As such, Marello is an "All for one" platform. All these individual features work together towards common goals:
Consolidate all operational data streams onto a single, unified platform
Reduce manual labor and eliminate manual data transfers through automation
Streamline operational workflows
Customize the platform to fit the specific needs of your business
Easily expand business
Marello DOP integrates with a variety of systems, including webshop platforms, marketplaces, Product Information Management systems, Warehouse Management Systems, and more. By bringing these systems together and unifying important operational data, we support the idea of "One for All." Marello serves as a hub that works with other platforms towards a common goal: operational excellence. This ability to connect and collaborate with other systems is a key aspect of our "One for All" philosophy.
Personal Relationships
Just like the three musketeers, we prioritize working together and collaboration. As they say, "united we stand, divided we fall." That's why Marello has partners all over the world with whom we work to deliver operational excellence to our shared customers. We value personal relationships with each and every one of our partners and customers and strive to provide the best solutions for their needs. We also value the opportunity to work with them and seek their feedback to ensure we are offering the best product for their needs. United, we can achieve greater success.
Events
In line with our commitment to building personal relationships, we are planning a series of events for 2023. We believe that face-to-face interactions are important for creating meaningful relationships and fostering a thriving ecosystem for businesses. Our events will be focused on creating shared experiences and strengthening connections. Be sure to follow us on social media (LinkedIn, Twitter) for updates and more information.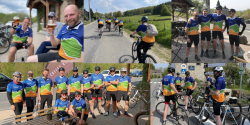 The Marello Cycling event was a huge success in 2022, and will be held again in April 2023!
An open approach
Lastly, Marello is an open-source product, meaning that the source code is made available to our customers. We strongly believe in the value of open-source technology, as it allows our customers to customize Marello to fit their specific needs. This makes our solution both powerful and flexible. With Marello, any business – regardless of type (B2C, B2B), industry, or use case – can take advantage of the benefits of open-source technology. This aligns with our "One for All" philosophy, as it allows all businesses to access and utilize our solution.
We are looking forward to 2023!
In conclusion, Marello DOP is a versatile and robust open-source platform that is designed to meet the needs of businesses of all types and sizes. Our "One for All, All for One" philosophy means that we prioritize collaboration and working together to deliver operational excellence. In the coming year, we will be hosting events and updates that are focused on creating shared experiences and building personal relationships with our customers and partners. Without these relationships, Marello could not be the product it is today. Follow us on social media for updates and more information.