New Whitepaper: A Guide to Unified Commerce
October 8, 2019
Unified Commerce is a relatively new retail term which is steadily gaining more attention. But what does it mean? Download our latest whitepaper to find it out.
The estimated time to read this article is
1 Minute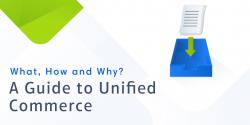 Some retail experts say unified commerce is consolidating sales channels into a single software. Others think it is a buzzword that is not much different from the well-known term omnichannel. A few see it as a way to convince retailers to invest in technology change.
With this whitepaper, we try to put an end to the speculations for once and for all. We'll explain what Unified Commerce is, what the difference is with omnichannel, and what benefits Unified Commerce could bring to your business.