Marello Sponsors PreMagento Live 2019
August 19, 2019
We are proud to announce that Marello will be sponsoring the PreMagento Live event in Amsterdam! PreMagentoLive is the kick-off event for MagentoLive Europe 2019. The event is organized by the community, for the community. It is one of the biggest celebrations of the Magento ecosystem worldwide.
The estimated time to read this article is
1 Minute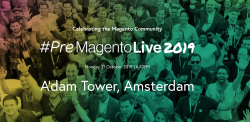 PreMagento Live: Join the Celebration
The PreMagento Live event will bring together 500+ Magento enthusiasts in Amsterdam. We will be there as sponsors, as an awesome solution for Magento users, as part of the community and as part of the party! Will you join us in the celebration during PreMageno Live? Check out the details below.
Marello and Magento
Marello is a valuable asset to the Magento community. Companies and developers that work with Magento can use Marello's Unified Commerce solution to expand Magento's back-office capabilities. Add comprehensive features including order management, inventory management, fulfillment, customer management and much more. Also, use Magento as a complementary Sales Channel in Marello, to strengthen your omnichannel proposition!
Event Details
Date:
October 21st, 2019
6 PM – 10 PM
Address:
A'DAM TOWER
Overhoeksplein 1, 1031 KS Amsterdam
Transportation:
You can get to the PreMagento location by boat, underground, taxi and car.
Tickets:
Ticket sales start on the 31st of August, keep an eye out on PreMagento's website for more information.