Marello 2.1 – Brand new release, brand new features!
July 11, 2019
We are excited to tell you that the release of Marello 2.1 offers brand new functionalities: subscriptions, backorders, preorders, drop shipment and improved reporting. These powerful new features unlock new possibilities for boosting your commerce operations. In this article, we give you a quick overview of Marello's new features.
The estimated time to read this article is
4 Minutes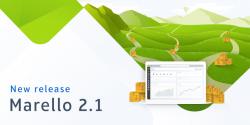 Subscription Management
We have added a brand new subscription module to Marello. It allows merchants to manage subscription orders, inventory, fulfillment, and all other processes surrounding subscriptions, in a single platform. A subscription is an agreement between the seller and the customer, where the customer pays a regular fee to receive products on a regular basis. Subscription agreement come in many different types. Generally speaking, four subscription models can be distinguished: replenishment, curation, access, and service. You can read more about these four models in our Whitepaper: Subscription Management.
In Marello 2.1:
Products:
Subscriptions may include products that are sent out on a regular basis. In Marello 2.1, products can be marked as subscription products, allowing for the addition of extra information about the subscription product such as duration, number of deliveries and payment details.
Duration:
The duration determines the length of the subscription. Usually, the duration is set for a fixed period, such as a month, a quarter of a year, a year, etc. The duration is set in a contract with the customer, which means the subscription cannot be canceled during this period.
Number of Deliveries:
Sets how many times the product should be shipped within the duration of the subscription.
Payments & Payment Terms: 
Subscription payments can occur in many different forms. In Marello, you can set the payment frequency and send out notifications accordingly.
Subscriptions are available as an extension to the Enterprise Edition.
Backorders & Preorders
Marello 2.1 now supports both backorders & preorders which unlocks new powerful ways to handle orders for an inventory that is not (yet) available.
Backorders
A backorder is an order for a product that cannot be fulfilled at the moment because of a lack of available inventory. This could be because the product is still in production or needs to be restocked. In short, it means that the demand for a certain product is higher than the demand. Companies sell products that are not available yet because they want to keep offering the product to their customers. Even though delivery times may be longer, backorders help to boost demand, retain and increase the customer base.
In Marello 2.1:
Products: Allow backorders on a product level
Date: communicate to customers about when the product will be available again (estimation)
Preorders
Can items that are not actually available yet be sold? The answer is yes. Pre-orders represent orders for products that have not been manufactured yet or products that can only be sold after a specific date. A pre-order therefore is a reservation that ultimately tells a retailer how many products will be sold as soon as the product becomes available.
In Marello 2.1:
Products: Allow pre-orders per product
Time specification: communicate to customers when a product will become available
Drop shipment
Drop shipment is a fulfillment method where a business does not keep the products they sell in their own inventory. Instead, when a product is sold, an order is placed at the supplier who then ships it directly to the customer. This means that the merchant never physically sees or handles the product and therefore does not own any inventory for specific products. This offers many benefits such as less risk, fewer storage costs, and quicker delivery times.
Marello now offers the option to mark suppliers that can drop ship, create external warehouses, and set inventory levels accordingly.
In Marello 2.1:
Suppliers: Define which suppliers can drop ship products
Inventory Levels: Integrate their inventory levels or set an infinite inventory level
Automate Fulfillment: Include drop shipment in your fulfillment rules and use it to create the most optimal fulfillment routes
Enhanced Reporting
We've added a new standard report which tells you the status of your orders. This means that you always know which orders have been shipped or might still be pending. This enables you to take actions and offer the best support to your customers possible.
In Marello 2.1: 
Orderitems by Status report: see the status of all products included in all orders
Dashboard Widget: a bar graph which gives a quick overview of your order statuses
Want to know more?
Want to know more about the latest release or got questions? Feel free to drop us a line or request a demo to explore the newest features!