Recap: Marello Cycling Event 2023
April 24, 2023
The second edition of the Marello Cycling Event was held on April 22nd, and it was a great success. Fifteen cycling enthusiasts from The Netherlands, Belgium, Germany, and France joined us for a challenging route along the tracks of the Amstel Gold Race in Valkenburg, The Netherlands. The event combined networking with a sporty challenge. It was a pleasure to connect with old and new friends and share an unforgettable experience together.
The estimated time to read this article is
2 Minutes
MCE 23 – Amstel Gold Race Edition
The event was held in Valkenburg, home to the famous Amstel Gold Race, one of the most well-known cycling races in The Netherlands. The Shimano Experience Center was our starting point, a cyclist's dream location, offering top-notch cycling rentals, a cycling café, and an exposition about Shimano's latest developments.
The Amstel Gold Race is one of the most iconic cycling races in The Netherlands, known for its challenging route and stunning scenery. It was the perfect backdrop for the Marello Cycling Event. By riding a part of the official race route, we got a taste of what it feels like to be a pro cyclist, tackling some of the steepest hills in the country including the Cauberg (max 12% elevation) and the Maasberg (max 10% elevation).
Despite the rain, the views were breathtaking, and we couldn't help but feel a sense of accomplishment as we conquered each hill. It was also an excellent opportunity to connect with other e-commerce professionals who share a passion for cycling, as we bonded over our shared experience on the road.
It's all about connection!
After completing the challenging 75km route, we celebrated the amazing day together, enjoying quite a few local "Brandt" beers, and dinner provided everyone with some much-needed energy.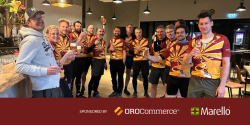 At Marello, we believe that a vibrant ecosystem thrives on the connections and collaborations that people make. Our cycling event was an effort to make these connections and create a strong sense of community. We were able to bring together people from various backgrounds and industries to ride together, share stories, and form new relationships that will undoubtedly lead to exciting opportunities and collaborations in the future.
This event was just one small step in our journey towards building a truly connected ecosystem. We're committed to continuing to bring people together and building a community that is stronger than ever before.
Thank you to all the participants who joined us in this year's event, and we look forward to seeing you again in next year's Marello Cycling Event!