Welcome K3 Innovationen – New Partner
April 5, 2023
We are very happy to announce a new partnership with K3 Innovationen GmbH. They are a full-service digital agency in Germany who have been accompanying and consulting companies in digitization projects for 25 years.
The estimated time to read this article is
2 Minutes
Their portfolio includes innovative solutions for companies in various industries. They work on portals, e-commerce, SEO, CRM, ERP, video conferencing, chats, PIM, and DSGVO-compliant data center operations. We are honored to say that they have now also added our Digital Operations Platform to their list of expertise.
Here's what Christoph Kruppa, Managing Director of K3 Innovationen GmbH has to say about the partnership: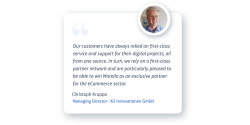 We are thrilled to be partnering with K3 Innovationen GmbH and look forward to bringing our cutting-edge Digital Operations Platform to their clients in Germany. Together, we will provide comprehensive digital solutions that enable companies to streamline their operations, optimize their customer experiences, and drive growth in today's ever-evolving digital landscape. This will help their clients stay competitive in their respective markets and achieve their digital transformation goals.
Our joint expertise and commitment to delivering exceptional service make us a powerful team, and we are excited to work closely with K3 Innovationen to help their clients achieve their digital goals. With our software and K3 Innovationen's experience, we are confident that we can help companies in Germany stay ahead of the curve and succeed in their digital transformation efforts.
Find more information about them on our partner page, or on their website.