Recap: Marello on Tour Zürich
November 28, 2022
The estimated time to read this article is
3 Minutes
Last week, on November 24th, we organized an eCommerce get-together in Zürich, Switzerland. Together with our partners Diglin and OroCommerce, we organized a unique get-together with eCommerce enthusiasts.
Marello on Tour Zürich
At Marello, our main goal is to help businesses to be successful and in our experience, the best way to do so is to meet in person. We believe in personal relationships and want to create an ecosystem where businesses thrive. Therefore we invited Zürich's top eCommerce businesses to an eCommerce get-together full of unique opportunities to get the latest insights from experts and have great networking opportunities.
Walk & Talk
Marello on Tour is unlike any other commerce event: we want to create memorable shared experiences together. And what better way to do so than from an inspiring location that overlooks Zürich, lake Zürich, and the surrounding Alps? We gathered at the train station at the foot of the Uetliberg and hiked up the hill together. It was the perfect way to walk, talk, connect and get to know each other!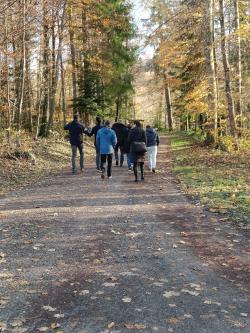 Expert Sessions
The eCommerce space is growing fast and buyers have high expectations. During this event, we took a look at the different types of eCommerce from many different angles.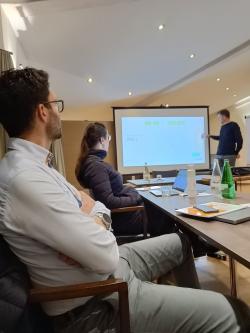 Thomas Fleck, VP of Sales at OroInc, told us everything about B2B eCommerce, and how it's changing how B2B businesses sell their products. Global B2B eCommerce shows no signs of slowing down and new technologies are making it easier to move B2B sales online.
Sylvain Rayé, founder of Diglin, showed how artificial intelligence in e-Commerce can bring a better customer experience, save time and increase productivity.
Falco van der Maden, founder of Marello showed how a Digital Operations Platform can help merchants to streamline their operations. A live customer example showed how efficiency in sales-, inventory-, customer- and fulfillment management has led to a future-proof platform.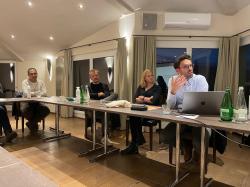 Panoramic Dinner
The sessions clearly inspired the audience, who got a lot of new insights to apply to their own businesses. During a wonderful dinner in the Uetliberg restaurant, new ideas were discussed, and business plans were made. And this all while enjoying a beautiful panoramic view of the city by night, a perfect way to end the day together.
Join us on tour
We will be organizing more Marello on Tour events in 2023. Keep an eye out for our social media and on this blog to find out more about our Marello on Tour events.