ERP Alternative: Digital Operations Platform
March 2, 2022
The estimated time to read this article is
7 Minutes
More and more, B2C and B2B commerce companies are rethinking their operational strategies. Consequently, the ERP is often evaluated as well. Many are questioning the validity of a full-suit ERP replacement, and wonder if it is really worth the time, costs, and risk. Implementing an ERP was the standard option for operational management in the past, but with the development of new technology and automation, ERP is no longer always the clear answer.
There are now better and more viable ERP alternatives that might be a better fit to modernize your operational strategy. One of these alternatives is the Digital Operations Platform.
Why you don't need a new ERP (and why you do need an ERP alternative)
Forrester has published several reports about the problems of ERP implementations. Liz Herbert, vice president, and principal analyst at Forrester, is especially critical of ERP systems: "ERP conjures up overly complex, slow-moving technology that may not live up to expectations,".
ERPs have many outdated UI design components that hamper productiveness. Because of that, employees need to do many extra manual actions.
ERPs use hard-coded processes that make agility and adaptations to a changing market harder.
As buyer expectations are changing day by day, so is the need for a system that can adapt to these needs.
The older and more complex a system, the more expensive it is to maintain.
But if ERPs are no longer the answer, is there a good alternative? Here, Forrester provides an answer. They coined the term "Digital Operations Platform", a type of platform that provides "a new breed of core enterprise functions" that "deal with lots of  ERP's workloads however with very totally different architectures that make them extra versatile, open, and simpler to make use of."
So DOP is a new type of platform to consider when contemplating a migration away from ERP software. But what is a DOP? And how does it solve ERP challenges?
Next-Generation Enterprise Resource Planning – DOP: An ERP Alternative
Like ERPs, DOPs are central solutions that manage operational data. Similar to an ERP, the DOP becomes the main hub for crucial operations such as order management, supply chain management, customer management, and more.
However, DOPs are much more suited to modern businesses. DOPs are much more agile, flexible, and proactive due to their modern technology. They create a closed feedback loop throughout the business to create powerful operational management for all teams.
Flexible and Scalable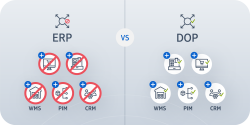 A DOP's purpose is to bring together and manage all types of data streams, whether from sales channels, PIM, WMS, or CRM. A DOP structures organizational cohesion. To do so, flexible software architecture is crucial. With a DOP, businesses can add new channels, incorporate new third-party software, and change backoffice strategies if needed.
Additionally, DOPs support any workflow with data coming from these systems, unifying them and combining them to allow for any operation, no matter the complexity.
This also makes scaling your business easy. In contrast to ERPs, its technology is designed to support high volumes of data. This includes orders and inventory movements. It means your business will have the opportunity to grow limitlessly.
Efficiency
With the implementation of a DOP, it becomes much easier to save money on operational costs, make operations more efficient, and ultimately drive revenue.
Your teams can all work within the same platform
Your teams will have more time for interacting with customers and can focus on optimizing the customer experience
Manual actions are irradicated, which prevents manual errors and saves lots of time
There is a continuous insight into operational performance, allowing businesses to optimize their strategies
Setting up a Digital Operations Platform might seem like a challenge at first. And we are not going to lie, it might be. Implementing a DOP forces you to review all internal processes and unify them into one platform. However, once the DOP is in use you will never want to back to your legacy ERP.
Great Customer Experience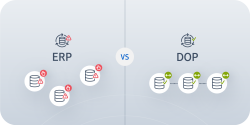 Customer expectations are more complicated than just a few years ago. B2C and B2B customers expect a great buying experience, no matter the channels they use. Their expectations include:
Having inventory visibility
Buy online pick up in-store
Tracking orders online
Personal customer account
Loyalty programs across channels
Great customer service
Quick delivery
Traditionally, these expectations would have to be satisfied with a multitude of solutions. For example, inventory visibility would be managed through the WMS, while order information would come from the CRM, and in-store pick-up would be managed by a POS solution.
This caused data silos in each separate solution. Having data silos means data are slow to manage and hard to maintain. The result? Making simple adjustments to the customer experience can become a real challenge. A change in system A means also changing it in systems B, C, and D.
With a DOP this is no longer needed as all operations are centralized. Thus making managing customer experiences much easier.
Much less expensive
Lastly, having a DOP in place is much less expensive than maintaining a legacy ERP. Even though the advantages of replacing an ERP are clear, many firms nonetheless continue using their existing legacy ERP systems out of habit, fearing that upgrading to a newer system will be more costly.
With that in mind, let's take a look at why it is actually more expensive to keep a legacy ERP.
Ongoing Monitoring and Maintenance
Legacy ERPs require continuous maintenance to prevent them from failing. IT specialists are needed to maintain the functionality and security of outdated technologies. If problems arise that cannot be solved by an in-house team, more expensive external consultants may need to step in.
A DOP is much easier to maintain. As it is built on the latest technologies, and as it keeps on upgrading, it is always up to date with the latest IT needs. This prevents your IT team from only working on updates and patches, and frees them up for optimizing your business strategy instead.
Maintaining custom code
As businesses evolve, so do their operational strategies. Legacy ERPs will need a significant investment in custom coding for any adaptations in your business model, which means the costs can add up rapidly.
A DOP built to support flexible adaptations of your operational workflows. DOPs choose configuration over coding, which means that you can easily add channels, third-party software, and change workflows on the go. This makes changes much easier to manage and lowers development costs.
Outdated cyber security
In today's commerce environment, it is incredibly important to keep customer information safe. Many legacy ERP systems are outdated and must be updated frequently.  Updating legacy systems can be tricky, take a lot of time, and are therefore expensive. Also, the costs of potential data loss due to security breaches can quickly add up.
Digital Operations Platforms are built with the latest technology. They built to support changing business workflows, which means their technology should always be up to date. At Marello, we release two major new versions of our DOP a year, which means it is always up to date with the latest versions.
DOP as an ERP Alternative?
Should you consider a DOP as an ERP alternative? Hopefully, this article has given enough reasons to consider a DOP as an ERP alternative.
In our opinion, a DOP is the best way to manage your commerce operations. We'd love to show you how exactly in a personal call.