New Technology Partner: Artifakt
June 23, 2021
Latest news: a new partnership with Artifakt: an all-in-one platform that helps developers deploy, host, and manage web applications on an enterprise-grade cloud infrastructure.
The estimated time to read this article is
1 Minute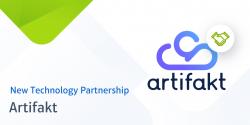 We are happy to announce our new technology partnership with Artifakt!
Artifakt is a unique automated all-in-one solution. It helps developers and companies deploy, manage, and scale their web applications in an agile and secure way. Your business can now use Artifakt's engines to build a ready-to-use environment in just a few minutes!
Artifakt x Marello
With Artifakt developers can now easily deploy Marello in three steps:
Setup your project: pick your preferred runtime in Artifakt's catalog, connect to your Git repository, or use one of the ready-made templates.
Deploy Marello: Create an environment and select the branch and platform that you would like to use. Artifakt automatically picks and sets up the best cloud infrastructure.
Manage and Monitor: As soon as Artifakt and Marello are running, you can monitor its performance and streamline your development process. Artifakt provides a 360° overview, so you can scale when you need, manage security and identify areas of improvement.
More About Artifakt
Launched in 2017, Artifakt is building an international and remote-friendly culture. It now employs 30 talented humans, one-third of them fully remote.
Want to know more about Artifakt?
Take a look at their website, or contact them.