Miniseries: A DOP for Inventory Management?
June 14, 2021
In 2021, 50% of commerce companies are soon acquiring, upgrading, or planning to work on their digital solutions. There are many solutions out there, but which ones fit your company best? We think we have a solution that fits into many of the most sought-after features. In this Miniseries, we introduce you to the Digital Operations Platform.
The estimated time to read this article is
5 Minutes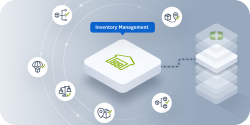 In the second part of this miniseries, we will talk about the DOP and Inventory Management Systems.
First things first
Why are we talking about Inventory Management? Well, because without inventory you can't sell products! Whether inventory is located in (external) warehouses, DCs, or brick-and-mortar stores, managing inventory is crucial to any commerce business. However, many merchants struggle with managing their inventory. Did you know that:
The average U.S. retail operation has an inventory accuracy of only 63 percent.
34 percent of businesses have shipped an order late because they inadvertently sold a product that was not in stock.
46% of SMBs either don't track inventory or use a manual method.
However, with the right inventory system companies can have a 25% increase in productivity, a 20% gain in space usage, and a 30% improvement in stock use efficiency.
Therefore, many companies are looking into improving their inventory and supply chain operations. However, existing inventory management solutions do not offer all features needed in modern commerce.
Why take a DOP into account?
Inventory Management is an important part of commerce operations. However, many inventory management systems do not live up to their expectations.
Some of the most heard problems with Inventory Management Systems:
They lack flexibility
They only support standard workflows
Making changes is time-consuming and expensive
Working with multiple inventory locations is difficult
Processes such as drop-shipment are not supported
They do not easily integrate with other systems
They lack accuracy and do not show real-time statistics
Due to these problems, businesses often need to make concessions about how they would like to manage their inventory management. However, there are systems that can help out. Let us introduce you to the Digital Operations Platform. DOPs include all inventory management features needed in modern commerce businesses.
Why choose a DOP for Inventory Management?
A Digital Operations Platform for commerce has built-in Inventory Management capabilities and other features to streamline operational management.
Key Inventory Management Features
Digital Operations Platforms contain very comprehensive inventory management features. As these features are much more flexible than in traditional inventory management systems, any inventory operation is possible. Let's take a look at some examples.
Real-time inventory
Tracking and managing stock is a crucial part of your business. The most challenging part is to know exactly what is in stock and where it is located. Especially when inventory is spread out over multiple inventory locations, and/or sold in multiple channels.
A Digital Operations Platform helps you to keep a real-time overview of inventory by showing on hand, allocated, and virtual inventory levels.
On Hand inventory: the total inventory
Allocated inventory: inventory that is sold, whether still in a warehouse on in transit
Virtual inventory: inventory that is available for sale
Multi-Source Inventory
Inventory management is especially challenging when dealing with high inventory turnover across multiple warehouse locations. A Digital Operations Platform helps to keep an overview and manage inventory in one unified interface.
Multi-source inventory features in DOPs include tools to record sales, update inventory accordingly, set up rules for purchase management, and more. This allows you to react quickly to supply chain needs.
Some advantages:
Avoid stock-outs and excess inventory: inventory levels are always up-to-date
Enhance customer experiences: never lose customers again. Always have adequate stock for your product in-store or online.
Support your accounting and finance team: an accurate picture of how much inventory is needed at the right times.
Inventory Batch Tracking
Inventory batches represent a number of items that are received on a specific date, against specific costs. Each batch of the same product type may differ: think of the expiry date, color, location the product was made at, purchase price, or type of material that was used.
Batches will enable you to:
Track expiry dates
Analyze return rates for certain batches
Answer customer questions about differences between products
Make more accurate reports on revenue, profit margin reports, and more
Also, inventory batches will allow you to set up specific strategies, such as LIFO, FIFO, and FEFO.
Warehouse Fulfillment Allocation
A good DOP has specific rules for how orders should be fulfilled. At Marello, we call these rules: WFA rules. WFA stands for Warehouse Fulfillment Allocation. WFA Rules determine the optimal sourcing and order fulfillment route. They offer a flexible way to assign shipments to warehouses and create the most efficient way to fulfill the orders.
Here are two examples of strategies that can be chosen:
A 'Minimum Quantity' strategy looks for warehouses that can fulfill the full order. If possible, the order will be fulfilled from one warehouse that has all ordered items in the inventory. If not, the order will be split between multiple warehouses.
Another possible strategy is 'Minimum Distance' which looks for the warehouse that is closest to the shipping location to fulfill the order.
Inventory Balancing
Inventory management can be a balancing act. Sometimes one channel performs better than the other, thus needing more supply. DOP's make sure you always have the right inventory available to match that demand. Inventory Balancing is a method that divides inventory over the Sales Channels in such a way that the inventory supply is optimized for the demand in the Sales Channels.
The way the Inventory Balancer calculates inventory for the Sales Channels is defined by Inventory Balancing strategy.
We've created this video to explain the concept in detail:
Should you choose a DOP over an Inventory Management System?
A Digital Operations Platform offers many features that inventory management systems lack. DOPs are flexible, scalable, and fit any business's inventory operations. Also, DOPs have many more features that will help you to streamline more than just inventory management alone. This means that you will be able to make inventory an integrated part of all commerce operations: for example Order Management or omnichannel specific processes.
Also read:
Miniseries: a DOP for Order Management
Miniseries: a DOP for Omnichannel Product Management