Miniseries: a DOP for Order Management?
June 14, 2021
In 2021, 50% of commerce companies are soon acquiring, upgrading, or planning to work on their digital solutions. There are many solutions out there, but which ones fit your company best? We think we have a solution that fits into many of the most sought-after features. In this Miniseries, we introduce you to the Digital Operations Platform.
The estimated time to read this article is
5 Minutes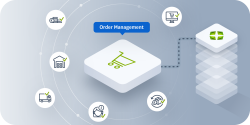 In the first part of this miniseries, we will talk about the DOP and Order Management Systems.
First Things First – Order Management
Why are we talking about Order Management? Well, because order management is one of the most important operations for any commerce business.
Order management encompasses any operation related to processing an order from it being placed, to it being fulfilled to the customer. It is an important part of delivering a good customer experience. Over the past years, having a centralized order management system in place has become key to success.
Research by IHL states that worldwide retail winners – those experiencing more than 10% annual sales growth – are 208% more likely to have centralized order management in place than those that don't.
If Order Management is so successful? Why do we look at a Digital Operations Platform instead of an Order Management System?
DOP instead of OMS?
Order Management is a very important part of operations to ensure a good customer experience. However, many Order Management Systems do not live up to their expectations.
Some of the most heard problems with Order Management Systems:
They lack flexibility
It is impossible to add custom workflows
Making changes to standard processes is time-consuming and expensive
It is hard to integrate other systems
Adding multiple sales channels is difficult
Adding multiple inventory locations is difficult
There are too few fulfillment options
They only support B2C or B2B
This leads to two main problems:
1. A compromised customer experience: businesses cannot live up to customer expectations
2. Difficult operational order management: businesses spent a lot of time and money on their order management
Due to these problems, businesses often need to make concessions to how they would actually like to manage their order operations.
And this hinders them in their growth.
Why choose a DOP for Order Management?
A Digital Operations Platform for commerce has built-in Order Management capabilities and other features to streamline operational management. In contrast to OMSs, DOPs allow for flexible workflow management. Let's take a look.
Custom Order Management Workflows
The first benefit of working with a DOP for order management is that it is built to support many different workflows. Whether B2C, B2B, single-channel, omnichannel, or combinations of those.
A step-by-step example:
Let's take a look at a possible order management workflow and the different options it offers, step-by-step.
Step one: Order Placed
It all begins when a customer places an order. Thanks to real-time information, the customer can see available inventory, and choose delivery options such as delivery to home or a pick-up point
For a DOP it does not matter in what channel as it easily connects to webshops, marketplaces, apps, and more.
What happens in the DOP: The order is created in the DOP. A customer account is created or the order is added to an existing customer account.
Step two: Payment
The customer pays for the order.
What happens in the DOP: The order is validated through an integration with the payment provider. The customer gets a validation email and the order workflow is started.
The payment step can be added at any place in the workflow. For example "upfront", often used in B2C, or "after delivery", often used in B2B.
Step three: Order Allocation
What happens in the DOP: the DOP checks available inventory for the ordered products. Inventory can come from multiple sources, including:
Warehouses
From the supplier directly
Dropshipping
Brick-and-Mortar Stores
Order allocation might be based on various rules. This will have the DOP decide how orders should be fulfilled. For example, from an inventory location closest to the customer, an inventory location can fulfill the complete order or by a split shipment from multiple inventory locations.
The allocation is passed to the WMS, which sends out picking lists to the warehouse staff.
Step four: Fulfillment
The order is fulfilled by 3PL which is integrated with the DOP.
The customer receives the order!
Step five: Customer Emails
All along the way, the customer has been informed about the steps in the process and therefore knows exactly what is going on with the order. Meanwhile, the customer has been able to contact customer service, who have been able to look up all order statuses
Step six: Returns and Refunds
The customer might want to return the order. A DOP also allows for easy return workflows, in which products can get checked and be added back to the inventory if possible.
Easy Omnichannel Integrations
DOPs are built to integrate with other systems to allow for workflows that work with data streams from other systems.
Sales channels and third-party software
DOPs easily integrate into sales channels including:
Webshops (Magento, Shopify, BigCommerce, Shopware)
POS systems
Marketplaces (Amazon, eBay, Ali)
Apps
Also, they are made to be the hub for data streams with other software, including:
Should you choose a DOP over an OMS?
In our humble opinion, yes. A DOP gives a more robust solution for Order Management processes than an OMS. Where an OMS solely focuses on Order Management, a DOP offers to incorporate many more operations needed in commerce. DOPs include many more features that will help to streamline more than just inventory management. You will be able to make Order Management an integrated part of all commerce operations: for example Inventory Management or omnichannel-specific processes.
Also read:
Miniseries: a DOP for Inventory Management
Miniseries: a DOP for Omnichannel Product Management