B2B Webinar: Roadmap to more B2B Sales with a DOP [Dutch]
September 22, 2020
The estimated time to read this article is
2 Minutes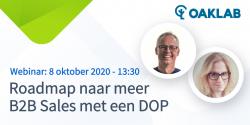 Together with our partner Oaklab, we organize a webinar on the 8th of Oktober – 13.30 CEST. This webinar, which will be in Dutch, focusses on how B2B business can successfully digitize their digital operations with Marello.
What is this webinar about?
The B2B (e)Commerce world is developing rapidly. Products and services are bought and sold in an increasing amount of channels. Webshops, marketplaces, and apps are finding their way to the B2B world. This creates complex B2B customer expectations.
B2B Customers expect:
Availability of products in multiple channels
An easy ordering process
Good customer service
Buy online, pick up in-store (BOPIS)
Online order tracking
But how to meet these expectations? Many companies choose to digitize their sales processes. But how does that work? Do you link existing outdated systems, or do you look for a better, more efficient, and cheaper way to manage your back-office operations?
In this webinar, Oaklab and Marello look at how a Digital Operations Platform helps to digitize B2B successfully. By centralizing sales processes within one platform, you can offer the best B2B experience, sell more, and stay ahead of the competition.
Who is this B2B Webinar for
This webinar is for B2B owners, (e)commerce managers, and sales managers who are digitizing their sales processes. Are you looking for a cheap, easy, and efficient way to manage complex back-office operations? Or are you looking for a system that optimizes the customer experience? Then this webinar is for you.
Register now. You will receive confirmation of your registration by e-mail.