Now is the time to Strengthen your Business
April 2, 2020
The global retail industry has been greatly affected by COVID-19. The way people live, shop and interact with brands has been disrupted. Businesses are experiencing a variety of challenges, including brick-and-mortar store closure, inability to respond to increased demand in online channels, and slowed down delivery times. It impacts all businesses, whether pure-players or omnichannel retailers and any type of commerce business in between.
The estimated time to read this article is
5 Minutes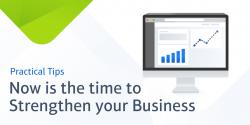 At the moment, it all may feel like a lot to deal with, and we're not going to deny that these are trying times. However, now is truly the time to evaluate your business and take action to ensure continuity. The right retail solutions help you to improve your processes now and also deliver long term benefits. Weather uncertainty, survive the COVID-19 crisis, and thrive once all returns to normal.
Strengthen your Business
We've made a list of practical tips that you could use to navigate through these trying times as well as to be ready to take on the next phase in your business.
1. Spread risk: engage multiple sales channels
Selling products through a limited amount of sales channels can be a risky business. Especially when the fate of your business is in the hands of just a single channel. With the latest COVID-19 crisis, many businesses are either forced to close the doors of their brick-and-mortar stores or see a significant decrease in foot traffic. Meanwhile, merchants who only use their own webshop to sell products experience tremendous competition from marketplaces such as Amazon and eBay.
Spreading your business across multiple channels is a good solution to lower the risk of missing out on sales. In the event of an unexpected crisis, merchants who have diversified their sales channels will avoid a big hit against their revenue.
As an added benefit, having extra sales channels in place will also increase the customer base, as a new audience will be reached. This will not only help your business in the time of crisis but also when all goes back to normal.
Adding new channels to your sales strategy might seem like a big challenge. However, with the right solution in place, the process of adding new channels can be eased. With a system such as Marello, you will be able to manage all incoming orders, inventory, customers, and fulfillment from a single platform. Read about it here.
2. Be smart with inventory
Inventory management is one of the most important processes in commerce. Yet it can be time-consuming to get it right. Especially in times like these, when demand might spike and supply might be harder to get by. It makes inventory management a difficult balancing game.
When you are selling on multiple channels, it can be hard to get an overview of incoming and outgoing products. Having the right system in place, allows you to keep track of inventory levels in real-time. This will allow you to be in time with ordering new inventory and preventing stock-outs.
Next to having real-time inventory insight, make sure to reserve inventory for your sales channels. By assigning a certain inventory level to a sales channel, it prevents you from selling the same product twice.
We've created this video to explain the concept:
3. Automate as many processes as possible
While your selling products and managing your business, the last thing you want is extra work. Whether it's about keeping track of orders, managing inventory or shipping products: try to automate your processes. Marello will help you automate any type of back-office process, from creating invoices to calculating the best shipping route.
This will reduce manual errors and give you time to focus on important processes that do need personal attention, such as customer service.
4. Clear communication
COVID-19 is creating new customer service challenges. Online competition is greater, returns are higher and deliveries are delayed. A transparent approach can turn these challenges into a positive experience for your customers.
A few examples:
Email marketing: keep customers informed of the latest developments. Explain how your business is coping with the crisis and keep customers up-to-date about the status of their order. Don't hesitate to send customers relevant offers and use marketing in a positive way.
Stock Insights: Let your customers know how much product inventory is left. This makes clear that you have enough stock to deliver. Also, be transparent when a product is temporarily unavailable,  and avoid selling products that you can not actually deliver.
Delivery time information: The delivery time of packages has recently increased. Due to a large number of packages, not all parties can guarantee the usual delivery speed. Be transparent about it: report it on your webshop, during checkout and / or in an email to your customers. Your customers will understand if you let them know in time!
The key take-away? You will have to be flexible in your communication. Guarantee high customer satisfaction through transparent and honest communication.
5. Preparing for the future
As strange as it may sound, businesses will become stronger in this crisis. That is: if they focus on reducing risks by engaging in more sales channels, optimize and automate their processes and boost their customer service. Even though it might seem hard, taking small steps in the right direction will help your business thrive and sell more.
We would love to help you out in persuing this goal. Let us know what your challenges are, we'd love to help you out.
How Marello's teams deal with COVID-19
We are fully aware of the impact that COVID-19 has on the retail community. We wish every merchant the best of luck in these trying times.
At Marello, we follow the guidelines set by the Dutch government. At the moment this means that all employees work from home. Fortunately, this is not a problem as our work has always mainly taken place online. Communication between team members, partners and customers are done by telephone and via our online project systems. In the coming weeks, we will continue delivering the service that you are used to as well as keep working on improving Marello. If you have any questions about this, please let us know.