New Whitepaper Order Management
April 29, 2019
We are excited to announce that we have just published a new whitepaper! The order management whitepaper discusses the role of an Order Management System and the omnichannel features that ultimately optimize the customer experience, in a single platform.
The estimated time to read this article is
1 Minute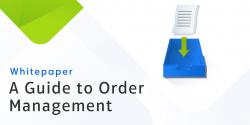 Changing Customer Behavior 
Your business is probably very aware of customers, and their demands. Your goal is to do anything to reach and exceed their expectations. However, customer behavior is changing fast in the current commerce landscape. This often makes it hard to keep up the pace. 
Since the life of customers gets ever more digital, they become conditioned to certain ideas, such as the thought that everything is connected, including commerce. This means they expect a seamless experience online as well as brick-and-mortar stores. They want to pick items up in store, pay the same prices in all channels, easily return products, and more. In short, what they want is a fully omnichannel experience. 
Whitepaper Order Management: why read it?
How to provide customers with the experience they expect? In this white-paper, we explain how connecting back-office processes in an OMS can help out. Increase efficiency, improve the fulfillment and perfect the customer experience by streamlining processes with efficient Order Management strategies. This guide will help you understand the value of Order Management for your business.