A Guide to using an Order Management System
April 1, 2019
Your organization is probably very aware of your customers, and their needs. Your goal is to do anything to keep up the pace with their expectations. However, customer expectations are changing fast in the current commerce landscape and often it's hard to keep pace. An Order Management System can help out.
The estimated time to read this article is
7 Minutes
The digital age has conditioned customers. They expect every aspect of their lives to be connected, including commerce. This means they expect a seamless experience in the sales channels they shop in, such as the possibility to pick items up in-store, the same prices in all channels, easy return options and more. In short, what they expect is a true omnichannel experience.
How to provide customers with the experience they expect? The answer lies in connecting back-office processes through a flexible Order Management strategy.
An Introduction to Order Management
It can be hard to grasp the concept of Order Management, as it does not simply describe one type of activity within a business. The easiest way of understanding order management is to think of it as a system that keeps track of all processes surrounding orders that are placed by customers.
The role of an Order Management System is to:
bring together order data that are created by these processes
streamline fulfillment,
streamline inventory management,
gather customer data
allow for omnichannel capabilities
and ultimately optimize the customer experience
Understanding the need for an Order Management System – Customer experience
Facilitating a smooth order process helps companies to meet their customer's needs. The digital age is rapidly changing the way customers research and buy products. In their buying processes, they expect a seamless experience in all channels:
90% Expect consistent interactions across channels.
71% Say using smartphones for research in-store is an important part of the experience.
78% Expect they will be able to make a purchase online and pick up in-store.
86% Would like to return their online bought products to a brick-and-mortar store.
82% Want to see the inventory availability of products, whether online or in-store.
50% Want a profile in which their information is available across all channels for easy access
Understanding the need for an Order Management System – The omnichannel environment
What exactly is meant by omnichannel? In this blog, it is used to describe the use of multiple sales channels, whether online or offline. Online channels may include channels such as webshops, marketplaces (Amazon, eBay), social selling (Instagram, Facebook), while offline channels include brick-and-mortar stores, order kiosks and temporary channels such as trade-shows.
Whenever multiple sales channels are used, no matter which combination, order processes become more complicated and need more comprehensive order management.
Understanding the need for an Order Management System – Legacy systems
Traditionally, commerce systems (such as POS and ERP) have been used to respectively support online and offline channels, and have continued to been used over the years. However, with the (e-)commerce landscape changing fast, many systems have not been able to keep up the pace. There are noticeable divides between handling processes in online and offline channels. The divide is often caused and/or amplified by the use of traditional commerce systems, such as Point of Sale software and legacy ERP's which are unable to cater to omnichannel processes. This ultimately results in disconnected experiences for the consumers leading to loss of sales and customer satisfaction.
Four Key Elements of an Order Management System
What elements should be included in Order Management? Top research firm Forrester has described four key elements that businesses should be looking for in an Order Management System.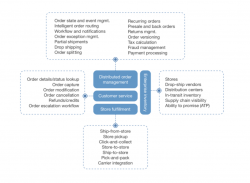 Four pillars of functionality – Source: Forrester Research inc.
1. Order Management
Of course, Order Management itself is at the heart of any Order Management System. An order orchestration engine provides an interface for registering incoming orders, configuring order workflows, intelligent order routing and inventory allocation logic. This does not only mean supporting standard processes but also edge- case scenarios, such as recurring orders, pre-orders, backorders, partial shipments, drop shipments and order splitting.
An important note: all of the features included in the Order Management System should be able to be configured, modified and optimized so that they can be adapted to specific business needs.
2. Customer Service
Delivering a good customer experience is key to any business. Only the OMS has true visibility into the lifecycle of an order post submission. Orders have to be visible from the moment they are placed, regardless of the channel that they were placed in, to the moment they are delivered and maybe even returned by the customer.
Having access to comprehensive order data enables any employee to provide a high level of service. This means that whenever a customer has a question, it can easily be addressed.
3. Store Fulfillment
Businesses with brick-and-mortar stores need specific features in Order Management Systems such as tools to enable shipment from store inventory and store pick-up. Most retailers find that their solutions (WMS, POS terminals) are not fully equipped for an omnichannel environment.
An OMS should be able to fulfill orders from all inventory locations, including warehouses and brick-and-mortar stores. Using all inventory locations enables a true omnichannel customer experience.
4. Enterprise Inventory
It is the role of an Order Management System to accurately show inventory data across the enterprise. Inventory that is spread out across locations should be visible in a single view. By doing so, it can be determined whether a product is available for sale, and if so, how it can be fulfilled.
Also, orders that have been placed in each channel should reserve inventory. In doing so, the OMS only allows for products to be sold that are truly available to the customer.
Where to place an Order Management System in your organization?
As mentioned before, legacy systems, such as POS and ERP, have been used to respectively support online and offline channels, and have continued to be used through the years. However, with the changing commerce landscape and customer behavior, many systems have not been able to keep pace. Legacy systems often do not support cross-channel order, inventory and return processes.
In an attempt to solve these problems, custom integrations have often been built. However, these create tensions between systems. They often lack the possibility to communicate fully and cost a lot of money to maintain. In response, businesses are looking for other solutions. Here, an Order Management System often comes into sight, for its operational and customer experience capabilities.
However, there is not just one way in which Order Management Systems can be used within organizations. Often, the OMS either becomes the central system or is used to operate as a ''glue'' that connects (e-)commerce systems.
Using an OMS as a central back-office solution
An Order Management System, such as Marello, can be used as a central system to control omnichannel back-office processes. An Order Management System can gather real-time information about orders, inventory, products, customers, and fulfillment, all you need to orchestrate your orders.
The good thing is that you can integrate any sales channel, inventory location, WMS, CRM, POS, 3PL, PIM and more. This eliminates the use of different interfaces. Managing and optimizing processes is easy, as all information can be accessed in a single system.
Using an OMS as a layer on top of existing systems
An Order Management System can also be used as an extra layer on top of existing systems, such as Enterprise Resource Planning systems. Even though legacy ERP solutions may to not be able to cater to complex order processes, they are often too embedded in a business's operations to exclude it completely.
Therefore, the OMS is often used as a layer on top of an ERP. When an OMS and ERP work together, data from the ERP system are used to cater to OMS processes. By doing so many new capabilities are unlocked, without having to change the business structure entirely. Also, not having to implement a new ERP or built custom applications, will save valuable time and money.
Want to know more?