Welcome PHPro – New Partner!
February 21, 2023
We are excited to announce our new partnership with PHPro. PHPro is a Belgian software integrator and full-service digital partner, they support clients with their digital transition in B2C and B2B eCommerce and fully customized web applications.
The estimated time to read this article is
1 Minute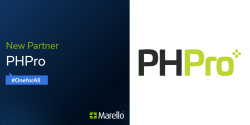 We've been working together with PHPro since the very start of Marello and decided that the anniversary of our five-year acquaintance makes the perfect timing to make our partnership official.
PHPro's tech and digital experts guarantee stable and long-term solutions. For their projects, their team maps out your project as accurately as possible. The project is then placed in the experienced hands of their of 60+ expert project managers and developers. The thorough analysis and continuous coordination during the development process guarantees an optimal result.
Want to know more about PHPro? Take a look at their website to find out more.