Marello 4.1 is here!
January 23, 2023
Introducing the latest version of Marello DOP - Marello 4.1
The estimated time to read this article is
4 Minutes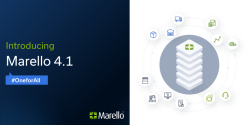 This release includes a variety of new features that expand the capabilities of Marello and make it even more suitable for a wide range of use cases. Let's take a closer look at some of these new features.
Partial Allocation
As soon as an order is placed, inventory gets allocated in Marello. This ensures the order will be fulfilled by the right warehouse, as swiftly as possible. However, in some cases, orders do not have to be allocated, either because it was already fulfilled by a marketplace, or when for example the "product" is a digital or a service. Let us give you some examples.
Fulfillment by Marketplaces
Imagine this: an order for multiple products is placed on Amazon. Some products are fulfilled by Amazon (FBA), while other products need to be fulfilled from local warehouses.
As soon as the order is registered in Marello, part of it will be fulfilled by Marello. In this case, Marello has to know that these orders are already allocated, to prevent the order from being allocated again, and thus sent twice. With Marello's new feature, products that are fulfilled by Amazon, or by other similar services, can be excluded from the allocation engine. Marello will therefore only allocate the products that need to be fulfilled.
Digital Products
Some products simply don't have inventory, and therefore don't need to be allocated. For example, let's say a customer buys two books: a hardcopy version and a digital version, in one order. In that case, Marello will exclude the digital product from allocation, while choosing the best fulfillment option for the hardcopy book.
Services
Lastly, some products might be sold together with a service. For example, a boiler might be sold together with a service contract. In that case, Marello will allocate the fulfillment of the boiler to a warehouse, while excluding the service. The best thing is that these two will still show up together on the receipt, giving the customer a great customer experience.
Special Price Promotions
A feature that was often requested by our ecosystem was the option to set promotions in Marello. Even though it was already possible to set a "special price" such as a discount, or temporary raise in costs, it is now possible to set a timing for these prices. This means that your complete pricing strategy can now be unified and managed in one single place.
Timing Special Prices on the Default Price
Want to temporarily change the price for a product for all (default) channels? Overwrite your default prices for a specific timeframe and run your campaign accordingly. Want to change the price as your campaign progresses? Just set the new price, and new timeframe and adjust pricing on the go.
Timing Special Prices on a Sales Channel Price
Want to temporarily change the price for a product in specific channels only? Set the new pricing for specific sales channels such as webshops, marketplaces, or POS systems. Set the timeframe, and manage your pricing campaign for these sales channels in a single location.
Marello 4.1 – One for All!
In conclusion, we are excited to announce the release of Marello 4.1. We believe it will greatly benefit many businesses and enhance their experience. Marello 4.1 is one step further toward a platform that can serve any type of company and that is without a doubt "one for all".
Want to know more about Marello 4.1?
To learn more about it, and see it in action, we invite you to join us for a demo. During the demo, our team will be available to answer any questions and provide a hands-on demonstration. We look forward to sharing this new feature with you and hearing your feedback!