Recap: OroVibe 2022
October 12, 2022
On October 6, OroVibe took place in Paris. OroVibe is an annual event for everyone involved in B2B eCommerce. As a long-term technology partner of Oro Inc., we attended the event as a sponsor.
The estimated time to read this article is
2 Minutes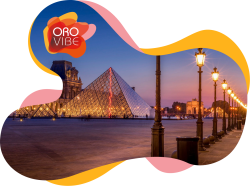 What is OroVibe?
OroVibe is an event organized annually by our partner Oro Inc. Many European B2B eCommerce experts come together here to get inspired, learn from each other, and get to know each other better. Several sessions are held where B2B eCommerce cases and the latest trends are discussed.
This year the latest ins and outs of B2B eCommerce were discussed. Falco van der Maden, our founder, also hosted a session on the importance of streamlining Digital Operations.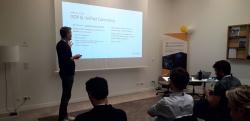 Falco van der Maden presents the importance of a DOP at OroVibe. 
A festive year
This year Oro celebrated its 10th anniversary and of course, that was celebrated! Besides looking back on the past years, future plans were shared. As icing on the cake, Oro was able to announce that they have been designated "Visionary" by Gartner in the annual Magic Quadrant report. They even emerged as the best platform in the B2B eCommerce section.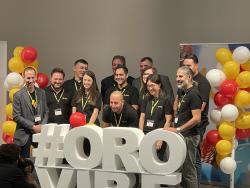 Oro's team celebrating its 10-year anniversary. 
5 years of Marello and Oro
Marello has been Oro technology partner since our very start.
Our DOP is built on the OroPlatform, a business application platform that allows for the development of strong, flexible solutions. We are looking forward to continuing working with Oro in the coming years and helping more companies with their B2B operations.
Operational Excellence with Marello DOP and OroCommerce
OroCommerce users can integrate Marello DOP to sync data and automate core business operations in real-time. Increase efficiency of order management, and inventory management, improve order fulfillment, and perfect the customer experience. Want to know more? Contact us for more information.