New Release: Marello 4
July 6, 2022
We're proud to announce the release of Marello 4! This release focuses on next-level order allocation and consolidation. With these new features, we've added even more flexibility and scalability to our Digital Operations Platform. We've also upgraded the technology stack to the latest standards, delivering a faster and even better experience. See what's new below!
The estimated time to read this article is
3 Minutes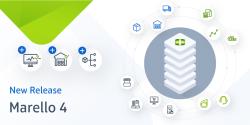 Order Consolidation
Order consolidation is the process of combining all items from a multi-product order into a single shipment to be sent to customers. This often means that products are transported from multiple warehouses to a central shipping location. Order consolidation helps reduce shipping costs while minimizing package waste and ensuring that customers receive all their ordered items at once.
Marello 4 natively supports order consolidation on multiple levels, so you can choose to activate consolidation for all orders, just those in a specific sales channel or even per order:
Define whether orders should be consolidated

Define locations where order consolidation is possible

Set consolidation per Sales Channel

Allow customers to select whether they want their order to be consolidated
Marello takes the entire consolidation process off your hands and ensures efficient order processing without sacrificing flexibility.
How does it work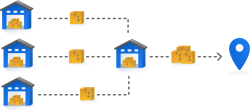 When an order needs to be allocated, Marello will calculate the best way to consolidate your order. These calculations are based on available inventory, inventory location, and other allocation strategies that you may have set up in the system.
The new consolidation feature in Marello is a game-changer when it comes to streamlining fulfillment.
Order Allocation
As part of the consolidation feature, allocation strategies have also been given a powerful update. Allocation is the process of assigning the shipment of items from the appropriate fulfillment sites such as warehouses, retail stores, and drop-ship vendors.
How does Marello 4 support Order Allocation?
With Marello 4 it no longer matters how, from where, and when you want to deliver an order to your customer. Marello supports all the most common delivery methods out-of-the-box, including:
On hand inventory

Drop shipment

Backorders

Preorders

Order on-demand
You have complete freedom to determine which options you would like to support and in which order Marello should process them. In short, Marello arranges the most efficient way of delivery without any worries.
We'll soon publish new articles on Order Consolidation and Order Allocation, so stay tuned!
Health Check Monitor
We've created a powerful Integrations Health Check Monitor. This Monitor shows the status of your integrations with Marello. For easy access, we created a widget that can be added to your dashboard so notifications cannot be overlooked when action is required. 
The new Health Check Monitor makes sure you can keep running your operations smoothly, without any limitations. 
Platform update
Lastly, a lot has changed technology-wise. Marello 4 now is now more stable, scalable, and secure than ever before. After updating to the latest OroPlatform, Marello now supports the latest versions of all technologies, optimized databases, and an enhanced API.
Up-to-date tech stack
Marello continues to rely on PHP as the server-side scripting language. These are the updates to the entire tech stack in Marello 4:
Symfony 5.4 LTS

PHP 8.1 security release

PostgreSQL 13 / MySQL 8

ElasticSearch 8

NodeJS 16

Redis 6

MongoDB 4.4
API improvements
With the update to the latest version of the OroPlatform, Marello's APIs have also improved and extended. This makes Marello even more flexible, and open to new integrations to complement any operational strategy. 
For more technical information, please take a look at the release notes. 
Get Started with Marello 4
With Marello 4, operational management has become more future-proof than ever before. Curious to learn what it can do for your operational strategies? Get to know Marello 4 in an online demo, or contact us for more information.