Digital Operations: Best Practices Part 1 | Omnichannel Feed Management
June 10, 2022
Digital operations are at the core of any (e)commerce business. As commerce is evolving, and customer demands are changing, so is the need to manage digital operations more efficiently. Yet, outdated operating models and outdated systems can hinder transformation initiatives, impeding the ability to keep pace with customer demands. Fortunately, new initiatives help to close the gap between outdated systems and new customer demands.  In this blog series, we explore best practices in managing digital operations in commerce with a DOP. In part one, we take a look at feed management.
The estimated time to read this article is
3 Minutes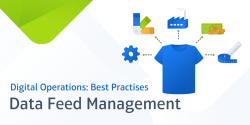 What is a Data Feed?
A product feed or data feed is a digital file containing an overview of the products or items being sold online. A data feed simply collects data on physical products, usually in a certain format, such as XML, CSV, or text file. eCommerce platforms such as Magento, or OroCommerce, have easy ways to extract this information from your system. This information can then be used to sell products in multiple channels.
Product feeds contain information about a whole range of product features, such as:
Title: Name of the product
Description: Information about the product
Price: Costs
Category: To which category does the product belong
Other details: material, size, color, EAN, etc.
Managing your feeds can be quite complicated and time-consuming. External channels, such as marketplaces or affiliate networks, ask for data feeds that probably do not match the format of your original file.
Why do I need a Feed Management tool?
Each sales channel (marketplaces such as Amazon and eBay, Social selling including Facebook, and Instagram) has unique requirements for its product feed. This means that the standard product feed from your online store cannot be used for other channels automatically. Updating your channels, therefore, becomes a very time-consuming task. Product feed files need to be edited for each channel manually. Alternatively, custom integrations need to be created, which are often expensive to maintain.
Fortunately, a Digital Operations Platform can help in managing your product feeds.
How can a Digital Operations Platform help my Feed Management?
Digital Operations Platforms, such as Marello, help with managing product feeds for multiple channels. Marello allows you to create and manage products in a single location. These products can then be linked to multiple sales channels. The product feed will automatically be updated for each sales channel that is connected accordingly.
This means that manual actions are no longer necessary, as feed management becomes fully automated.
How is a DOP different from other Feed Management tools?
Many feed management tools only help you distribute your product feed to your sales channels. However, feed management is just one part of your backoffice processes. Many more digital operations need to be managed to sell products successfully.
Digital Operations Platforms include additional information in the product feed, such as real-time inventory availability, product pricing, discount codes, and more. This means just one tool is needed, unifying all data streams that would otherwise be managed with multiple solutions.
A Digital Operations Platform is crucial for Feed Management
Each sales channel has unique requirements for its product feed and managing it by hand is a time-consuming task. Therefore automation of the process helps to save time and stay ahead of ever-changing product catalogs.
Here's how feed management with a DOP saves you time and money:
Everything is in one place. You work with a unified platform to optimize, enrich and manage your product data; even for a large number of export channels.
Easily tailor feed management to the needs of your commerce strategy. Create the perfect export feed for various price comparison sites, affiliates, or marketplaces and define your own channel portfolio.
Remain in control. Feed management allows you to control and fine-tune your data. Limit the risk of error messages and poor quality exports to a minimum. An added bonus: you work independently of data specialists or an IT department.
And lastly, a DOP allows you to:
Combine feed management with other digital operations.
These operations include Order Management, Inventory Management, Order Fulfillment, etc. We'll elaborate on it in the next blogs of this blog series.