Marello Cycling Event Recap
May 9, 2022
On the 7th of May, we organized the first-ever Marello Cycling Event! Co-sponsored by our friends from OroInc., we organized a fantastic bike ride through the hills of the Ardennes in Belgium. Here's a quick recap of the day!
The estimated time to read this article is
1 Minute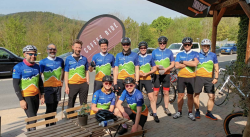 A group of 15 Marello/OroInc. ecosystem cycling enthusiasts from The Netherlands, Germany, and the USA, participated in a 50km or 100km route. Both routes showed the best of the Ardennes, with beautiful landscapes and pretty villages, while also offering a challenge with steep 13% hills.
It was a great opportunity to get to know each other while enjoying a sporty activity on our bikes.
Relive the 50km ride with this video impression of the 50KM ride by Thomas Fleck.
After the ride, we enjoyed a nice cold Belgian beer in the sunshine. And right there and then, we started to plan next year's Marello Cycling Event. Where do you think should we organize the next ride?
Thank you to everyone who joined the event, we are looking forward to seeing you again soon!