Part two: Customer Expectations in the Convenience Economy
October 4, 2021
Shopping has changed tremendously over the past decade. It is now an "always-on" experience in which customers are constantly open to buying products. We now live in a convenience economy, in which customers have a new mindset when it comes to shopping. In this three-part blog, we explore the convenience economy and how commerce businesses can navigate it and flourish in it! In part two we focus on customer expectations.
The estimated time to read this article is
7 Minutes
This is part two of a series about the Convenience economy. Read part one here. 
The convenience economy brings a shift in customer expectations. This puts pressure on commerce brands, who need to keep up. To stay relevant in the convenience economy, they must offer the best shopping experiences they can.
Traditionally, commerce is based on a single-channel marketing model: the retailer sells its products to the customer through a single channel. In most cases, this is a store location or webshop.
However, in the convenience economy, many other channels are at play, such as social media channels, marketplaces, apps, and more.
Customer Expectations: A Seamless Buying Experience
A huge part of the convenience economy is a seamless buying experience. A frictionless purchase journey is expected to be a standard.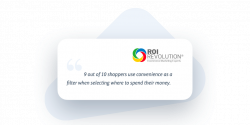 But what does a seamless buying experience look like?
Finding Products
The buying journey begins with finding the right product. Make sure your products are easy to find.
Make sure your business is visible in search engines
Products on your webshop should be easy to find
Products need to be in the right categories
Products should be accessible through an onsite search box
Researching Product Information
As soon as a product is found, the research process will start. Customers want to be able to read about different aspects of the product. Whether it's about colors, weight, technical information, warranty, or the product's origin. Make sure all information is available.
Researching Product Pricing
Next up: pricing. Make sure the pricing of the product is easy to find and easy to understand. Display the price of the product, delivery costs, and whether TAX/VAT is included. The more information is available, the sooner a customer will decide to buy the product.
Checkout
Checkouts are often a bottleneck when it comes to the buying journey. A report from the National Retail Federation revealed that 97% of consumers have terminated a purchase because the checkout was not convenient enough.
Luckily, checkout optimization can increase conversions by 35%. Some of these optimizations include: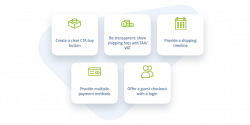 Updates about the order status
Keep customers informed about the status of their orders. Let them know exactly what is going on, such as the payment status, when the order will be shipped, and when it will be delivered.
Easy returns
Products that are bought online are more likely to be returned than products that are bought in a brick-and-mortar store. 89% of consumers have returned an online order in the last three years. As returns are such a big part of the buying experience, it should be noted that returning products should be as easy and as seamless as possible. Some examples of a good returns experience include:
A returns portal where returns can be registered
Adding a shipping label for returns to the initial order
Keeping customers informed about the status of their return
Quick and accurate refunds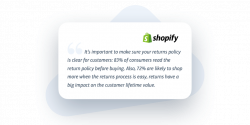 High Customer Expectations on Delivery
Get it wrong, and you risk damaging your reputation with customers, losing out on repeat purchasers. Delayed deliveries and limited delivery options have an impact on how the brand is perceived by the customer. In the convenience economy, delivery is one of the operations that just needs to be right to keep customers satisfied. 
Let's dive into some of the aspects of a good delivery experience in the convenience economy.
Multiple shipping options
Nowadays, there are many different ways in which orders can be delivered. Customers value the option to choose where they can receive their parcel. 86% of customers believe retailers should offer them the ability to choose the most convenient delivery option when ordering their goods.
Some options: at-home delivery, buy online, pick up in-store (BOPIS) / Click-and-Collect, Buy online, pick-up at a pick-up point.
Delivery dates
Customer expectations are driving retailers to offer fast, on-time delivery options. Even though same-day delivery, or next-day delivery, are popular among customers (55% of shoppers in the US prefer same-day delivery) it does not mean that retailers have to offer it.
Nearly half (44%) of customers don't mind waiting for two or three days for their delivery to arrive. To customers, it's more important that displayed delivery dates are accurate than the actual time it will take to receive their items.
Tracking information
Customers always want to know what to expect when waiting for their order to be delivered. Make sure to provide tracking information through an integration with a 3PL. They might provide a tracking system, and send out emails, however in other cases retailers might have to provide that information to their customers themselves.
Shipping from multiple locations
To ensure a smooth delivery process, working with multiple warehouses may provide benefits. When you partner with wholesalers or warehouses in strategic locations, orders will have to travel less far to reach the customer.
Shipping from multiple locations might include shipping from your warehouse locations, shipping from brick-and-mortar stores, shipping from external warehouses (e.i Amazon FBA) shipping directly from the manufacturer, or other types of drop shipment. It will not only lower shipping costs but also guarantees faster delivery times.
Communication with Buyers
Delivery issues are inevitable, but with excellent communication, you can manage your buyers' frustrations. Be proactive and communicate clearly with your buyers. Let them know what is happening and what efforts you're making to resolve the problem before they notice it themselves.
Customer Service
Customer service is predicted to take over price and product as the main brand differentiator.
It's estimated that the cost for attracting new customers is five times higher than to retain them. Therefore having great customer service, which keeps customers happy, is crucial if you want to be successful long-term.
But how to keep customers happy? Let's take a look at some best practices:
Cross channel consistency
Many retailers are selling their products in multiple channels. Whether in a webshop, marketplace, app, or brick-and-mortar store, customer service needs to be consistent throughout these channels. Studies have shown that companies with a well-defined omnichannel customer experience, have a customer retention rate of 91%.
Make sure your customer service team has access to all communications and that customers know where to find you.
Don't make customers repeat themselves
Making sure customers don't have to repeat themselves or wait for days for a response is an important aspect of good customer service. Customers do not appreciate it if they have to repeat themselves. 66% rate it the most frustrating aspect of getting customer service help.
Providing a Customer Portal
Prevention is always better than cure. Proving a customer portal can help customers to get answers to their questions, or help with their problems, even before they have to contact your customer service team. In a recent survey, 90% of respondents said that they expect a brand to offer a customer portal for self-service.
A customer portal should at least include the following aspects:
Perfecting the Omnichannel Customer Experience
Living up to customer expectations in the convenience economy mentioned in this article will help to keep customers happy.
Often all these different processes can create operational challenges. To make the buying process as seamless as possible retailers need to invest in sales in multiple channels, and focus on product management, order management, inventory management, fulfillment, customer service, and much more, at the same time.
In the next and last part of this blog, we will explore how an ultimate customer experience can be created with the right unified solution.
Continue Reading – Part Three: Operational Excellence in the Convenience Economy