New Release: Marello 3.0.1 Introducing Product Tags
March 23, 2020
We are happy to announce the release of Marello 3.0.1!
The estimated time to read this article is
2 Minutes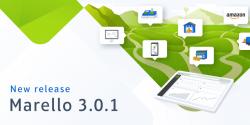 This new release includes a brand new feature Product Tags, as well as some fixes and improvements to Marello 3.
New Feature – Product Tags
With Marello 3.0.1 you can now add tags to your products. By adding tags to products you may:
Easily filter products
Create color based taxonomies
(e.g blue is "product type" and orange is "season" in the example below)
Design reports for certain tagged products only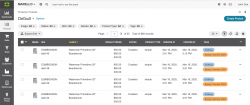 These tags give users even more control over their product management and may help in creating more valuable insight into sales performance.
Next to this cool new feature, we have also been working on some fixes and improvements. Big thanks to the community for pointing some of these out!
Release notes 3.0.1 Community edition:
New Features
Implemented Product tags
Added Email activity to Marello Customer
List of fixed issues and improvements
Fixed issue with schema update when adding new Product attributes or fields through entity management via the GUI – Fixed issue with sending localized emails where the chain was broken and only send the default email. Referring to this issue
Added inline grid editing on Product grid for Status, SKU and Tags
Fixed issue with Localized email template of the Shipping confirmation
Added fix for existing attributes to configure them correctly to show them in attribute groups and retain the original data
Added save and a new option in various places like SalesChannels, SalesChannelGroups, and Tax related entities
Technology Upgrades
Updated Oro Platform to 4.1.1
Release notes 3.0.1 Enterprise edition
New Features
Implemented Product tags
Added Email activity to Marello Customer
List of fixed issues and improvements
Fixed issue with schema update when adding new Product attributes or fields through entity management via the GUI
Fixed issue with sending localized emails where the chain was broken and only send the default email. Referring to this issue
Added inline grid editing on Product grid for Status, SKU and Tags
Fixed issue with Localized email template of the Shipping confirmation
Added fix for existing attributes to configure them correctly to show them in attribute groups and retain the original data
Added save and a new option in various places like SalesChannels, SalesChannelGroups, Warehouses, WarehouseGroups and Tax related entities
Technology Upgrades
Updated Oro Platform to 4.1.1