Unified Commerce Part 3: The Benefits of Unified Commerce 
March 10, 2020
The estimated time to read this article is
4 Minutes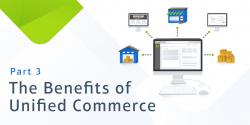 This blog is the third blog in a series about Unified Commerce. In the two previous blogs, we dug into the definition of Unified Commerce and the difference between Unified Commerce and Omnichannel Commerce. In the last blog of this series, we will discover the benefits of Unified Commerce.
First, let's refresh the definition of Unified Commerce:
"Unified Commerce means that regardless of the journey the customer has taken, or what touchpoints they've used to make a purchase, their customer experience should remain the same: frictionless".
Research of Boston Retail Partners shows that in 2018, only 9% of the businesses had a Unified Commerce strategy in place. The same research shows that in 2019, this percentage increased to 28%! But why do more and more businesses have a Unified Commerce System in place? In this blog, we will answer that question by discussing the top three reasons why businesses proactively invest in Unified Commerce.
Benefits of Unified Commerce 1: A Frictionless (Customer) Experience
This is what Unified Commerce is all about. Customers don't care about channels. What they want is a seamless shopping experience and accurate, consistent information and services, no matter whether they buy online or in your physical stores. Some examples:
Check inventory availability across stores

Click & collect

Order an out-of-stock item in your stores, and have it delivered at home

Buy online, pick up in-store

Return an online purchased item in-store

Cross channel loyalty programs
A Unified Commerce platform enables businesses to easily offer all these options, and more. Also, it makes sure that these processes can all be handled on a single platform, ensuring frictionless experiences in the front-end and the back-end.
Benefits of Unified Commerce 2: Smart Data-Driven Decisions
When every part of your business – including distribution centers, eCommerce sites, brick-and-mortar stores, and HQ – runs on a unified platform, every department can access, and manage, the same set of data.
Using these unified data allows businesses to better track their KPIs, analyze their performance and thus make decisions that benefit the business. Eliminate guesswork and make decisions that are data and insight-driven. Identify new revenue opportunities, obtain insights about potential opportunities, create new offers to adjust to the current market situation and improve customer satisfaction.
An important benefit of Unified Commerce is that it provides businesses of a clear, unified overview of all sales through all channels. This unified data empower businesses to make smart, data and insight-driven decisions that benefit their business.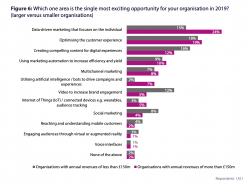 Adobe and Econsultancy conducted their Annual Digital Trends report. This report shows that more and more businesses are seeing customer experiences as an opportunity to grow.
Benefits of Unified Commerce 3: Optimize Efficiency in your Business
It is important that all of the systems within a business work seamlessly with one another. When you use separate systems to manage sales, inventory, purchase orders, customer management, and so on, setting up seamless integrations will become a problem. Integrating separate systems requires finding multiple vendors, each specialized in one of the systems. They need to find time to work on a mutual project, take time to understand each other's systems and work together to make working integrations. Every time an upgrade needs to be performed, this process restarts and repeats.
Needless to say, this can be a lengthy and costly project for each integration. When a unified system is in place, implementation and maintenance time and costs can be reduced. This benefit of Unified Commerce means dealing with one vendor who takes care of the whole process.
The Bottom Line
To sum it up: what are the benefits of Unified Commerce? First of all, it enables businesses to offer their customers a seamless omnichannel experience. A Unified Commerce system makes sure omnichannel strategies are not only optimized in the front-end, but also in the back-end. Besides that, it enables businesses to gather data across all their sales channels. With this data, they can make smart, data and insight-driven decisions. Data can be used to strengthen the customer experience they offer. With Unified Commerce, there is no need to collect this data in different interfaces: there is one, unified interface where businesses can oversee all the data they need.
With these benefits of unified commerce, companies can spend more valuable time on growing their business.
Want to know more about how Unified Commerce might benefit your company? Let us know!