Adyen Joins Marello Technology Partnership Program
March 25, 2019
We're excited to announce that we have recently started up a new technology partnership with payment platform Adyen. Adyen and Marello have a shared goal to enable seamless unified commerce experiences. Together we will be working on integrating seamless payment solutions that can be used across channels.
The estimated time to read this article is
2 Minutes
About Adyen
Adyen (AMS: ADYEN) is the payments platform of choice for many of the world's leading companies, providing a modern end-to-end infrastructure connecting directly to Visa, Mastercard, and consumers' globally preferred payment methods. Adyen delivers frictionless payments across online, mobile, and in-store channels. With offices across the world, Adyen serves customers including Facebook, Uber, De Bijenkorf, Rituals, Van Moof, and Tony Chocolonely.
Why integrate Adyen with Marello?
Marello and Adyen both have a shared goal to enable seamless unified commerce experiences. Adyen makes sure payments can be accepted anywhere, on any device with a secure online payment solution. Enjoy using a single payment solution in all channels, using the latest technology, for any customer journey.
Some of the benefits of using Adyen with Marello:
Frictionless checkout experiences in every channel
Accept all popular payment methods
Easy refunds for customers
Engage in subscription models, with renewals and monthly payments
Connect with the MPOS, a Mobile Point Of Sale solution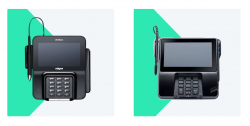 About our Technology Partnership
Together with Adyen, we will be working on an integration between our platforms. We'll keep you informed about the progress, and work together at keeping you updated about the latest developments in establishing a truly unified solution.
Want to know more?
Want to know more about integrating Marello with Adyen? Or do you want to know how we can integrate your preferred payment provider in Marello? Let us know, we are happy to help!