Digital Operations Platforms – Part Two – Towards a Unified Solution
January 28, 2021
In this three-part blog, we will introduce you to the Digital Operations Platform. We'll tell you about what changes are going on in the omnichannel landscape, what challenges arise because of it, and how a DOP can be a future-proof solution for your business. In part two, we will discuss how legacy systems do not longer support the modern omnichannel business.
The estimated time to read this article is
2 Minutes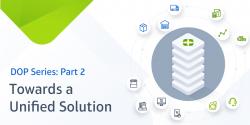 Read part one here: Next Level Omnichannel
Businesses are experiencing many challenges in adapting to the changes in the (e)commerce landscape. Often, the most significant hurdles are the technologies that are being used to offer a true omnichannel experience.
Replacing Legacy Systems
Traditionally many businesses have put into place solutions to manage their digital operations in the best way possible, including Enterprise Resource Planning software (ERP), Order Management software (OMS), Customer Relationship Management solutions (CRM), Warehouse Management Software (WMS), and much more.
To keep up with the change in operational demands, integrations have been created between existing systems. This has lead to integration mazes, in which solutions cannot fully communicate.
This leads to:
Cumbersome data silos
A high level of inefficiency
Manual data transfers between multiple solutions
A higher chance of errors in operational processes
Expensive upkeep of software
Flexibility problems: scaling up is a challenge and costs a lot of time and money
From Legacy Software to a Unified DOP Solution
To solve these problems business leaders are looking for alternatives. In the process, they are being sold enterprise software that claim to have the ability to unify operations. However, especially ERP vendors are notorious for selling products that do not live up to these expectations. Many ERP systems are as inflexible and hard to maintain as the legacy systems already in place. This makes it very hard for merchants to find the right solution. Until recently, there were no solutions that could truly live up to the expectations.
Luckily that changed! Global analytics firm Forrester's latest report describes a transition away from legacy systems, to a unified, modern, flexible, and sustainable Digital Operations Platform (DOP).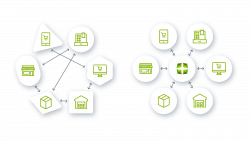 Commerce with a Unified DOP vs. Commerce with a Unified DOP
The Digital Operations Platform allows merchants to unify their backoffice operations into a single view. This leads to having a flexible solution in which operations are easily manageable, in which employees can work together, and which allows for great customer experiences. The key purpose of a DOP is unifying processes that are needed to optimize backoffice operations, to overcome and prevent the challenges mentioned above.
Let us tell you more about a Unified DOP solution in the upcoming part three of this blog series.